Podcast: Play in new window | Download (Duration: 40:12 — 55.2MB)
Subscribe: Google Podcasts | Stitcher | RSS | More
How can we help boys develop healthy body image? 
That's not a question parents of boys asked in previous generations. Girls, parents thought, were the ones at risk for body dissatisfaction, given the constant onslaught of heavily stylized (and often Photoshopped) images of impossibly perfect and thin women featured in magazines, movies, and TV shows.
But boys aren't immune to body image pressure. As many as 75% of adolescent boys are dissatisfied with their bodies – and that dissatisfaction leads many of them to TikTok & Instagram, where they encounter unrealistic images of chiseled abs and chests AND workout and nutrition regimens that influencers swear will them help get a "ripped" body. Boys are just as susceptible to body image pressure and bad dietary and fitness advice as girls are — and the results can be devastating.
"We've feminized this issue for so long that boys are afraid to admit that it's a concern for them," says Charlotte Markey, a body image researcher and co-author of Being You: The Body Image Book for Boys. But research shows that many 6-year-old boys think they'd look better with muscles. These young boys' perceptions are likely influenced by the fact that the male bodies featured in movies and media have gotten "more extreme" in recent years, says Ed Frauenheim, co-author of Reinventing Masculinity. Today's action figures, he notes, are "more chiseled" than those created a few decades ago.
3% of boys are now using steroids in an attempt to alter their bodies, and 7% use supplements. 
"The message in our culture is that 'if you just work a little harder' or 'try this' or 'buy this product,' then you can make yourself into this superhero action figure in real life," Markey says. "But that's not how this really works."
Parents can help boys develop healthy body image by discussing masculinity & what it means to be a man. Together, interrogate & challenge gender norms and expectations.
"It's important to question, 'what do you want these muscles for?'" Frauenheim says. Boys' answers to that question can reveal both their state of mine and underlying assumptions about men and masculinity.
You can also ask boys to name people they admire — and then, ask what those people look like. Such conversations can help underscore the fact that our bodies are often the least interesting and important thing about us.
"The most important thing for health and happiness is not your level of fitness," Frauenheim says, citing research from Harvard. "It's your relationships. And body image obsession can actually interfere with relationships." Make sure your boys know that it's okay to build muscles, as long as they're more focused on building relationships.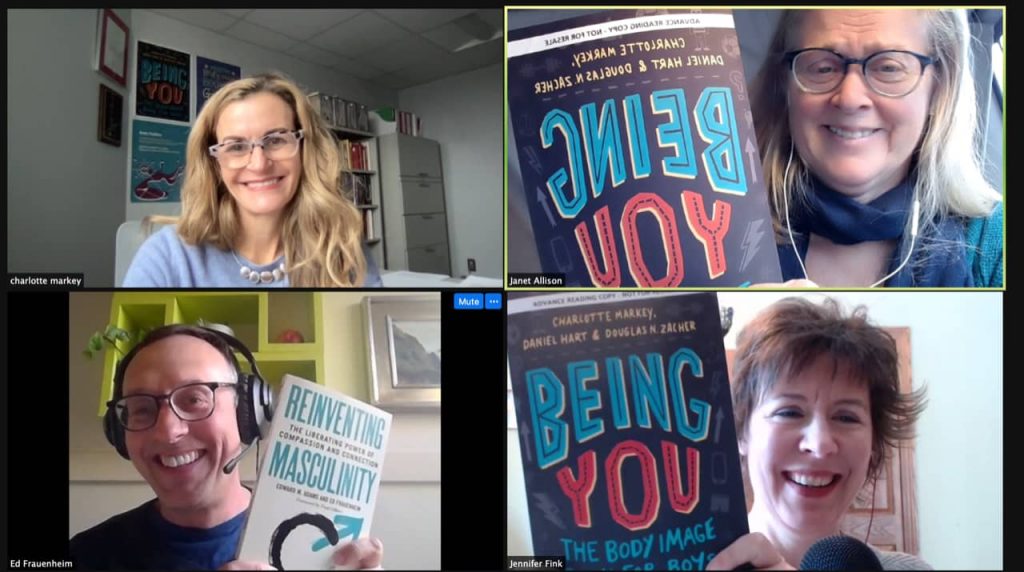 In this episode, Jen, Janet, Charlotte & Ed discuss:
Why parents & doctors don't know as much about body image and eating disorders in boys as in girls
The link between social media & boys' body image issues
Talking to boys about actors who transform their bodies for superhero movies
Steroid & supplement use
Helping boys recalibrate their body image expectations
When to worry about exercise & "healthy" eating ("If you won't eat dessert on your birthday, that's a problem," Markey says.)
How often boys really need to shower (Spoiler: there's no scientific consensus!)
Links we mentioned (or should have) in this episode:
Being You: The Body Image Book for Boys, by Charlotte Markey, Daniel Hart, Douglas Zacher
Preparing Boys for the World of Work –– ON BOYS episode featuring Ed Frauenheim
Boys Get Eating Disorders Too — ON BOYS episode featuring Oona Hanson (mentioned at 22:57)
Boys & Body Image — ON BOYS episode
What Is "Bigoerexia?" — NYT article mentioned at 10:20
Steroids are Rampant Among Fitness Influencers, Trainers & Body Builders Say. Most Use in Secret, Claiming Their Gains Come From Workouts & Diet Plans — Insider article mentioned at 10:53
Decoding Boys w Dr. Cara Natterson — ON BOYS episode (mentioned at 22:57)
Boys and Sex (w Peggy Orenstein) — ON BOYS episode (mentioned at 26:17)
Personal Hygiene for Tween & Teen Boys –– ON BOYS episode
Need help with your boys?
Subscribe to Jen's newsletter, Building Boys Bulletin
Opt-in at Boys Alive! for your free guide: Boys & Big Emotions with Janet