.redcircle-link:link {
color: #ea404d;
text-decoration: none;
}
.redcircle-link:hover {
color: #ea404d;
}
.redcircle-link:active {
color: #ea404d;
}
.redcircle-link:visited {
color: #ea404d;
}
Powered by RedCircle
Advanced parenting may involve guiding a child through a mental health crisis. Or parenting a child with a chronic medical condition. Or both. It's what parents must do when a child's needs go beyond basic feeding, sheltering, loving, and nurturing.
As a childhood cancer survivor and complex care pediatrician, Dr. Kelly Fradin knows that it's difficult for parents to balance kids' physical and mental challenges with the routine logistics of parenting and family life. Healthcare providers and mental health clinicians often don't have the time they'd like to support parents navigating these complex challenges, so she write a guidebook to help parents: Advanced Parenting: Advice for Helping Kids Through Diagnoses, Differences, & Mental Health Challenges.
Parenting Boys Through Health Challenges
"Boys struggle just as much as girls with having a challenge that separates them from their friends," Dr. Kelly says.
But while many girls will spontaneously reach out for support and share their emotions with their friends and family, boys will likely need extra parental support to develop their emotional vocabulary.
"If they have that emotional literacy of being able to identify and talk about their feelings, they can communicate on a more sophisticated level," she says, noting that parents (and other adults) must also give boys space and time to experience their emotions. Boys, Dr. Kelly says, need to know that "they don't have to be strong all the time."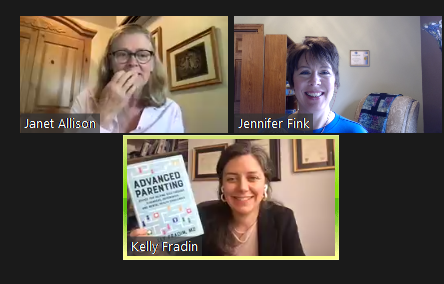 In this episode, Jen, Janet, & Kelly discuss:
When — and how — to ask questions of healthcare professionals and educators
Evaluating online sources of health information
Talking to your child about a diagnosis
Managing parental anxiety
Involving boys in their medical care
Managing medication refusal
Making room for emotions
Helping siblings cope
Picking your priorities
Links we mentioned (or should have) in this episode:
drkellyfradin.com — Dr. Kelly's website
Advanced Parenting: Advice for Helping Kids Through Diagnoses, Differences, & Mental Health Challenges, by Dr. Kelly Fradin
Advanced Parenting podcast series
You Can Thrive with Chronic Illness and Special Needs — ON BOYS episode
Parenting Thru Health Challenges — ON BOYS episode
Therapy to help you live a more empowered life. Go to BetterHelp.com/onboys to save 10%