Podcast: Play in new window | Download (Duration: 24:13 — 27.8MB)
Subscribe: Google Podcasts | Stitcher | RSS | More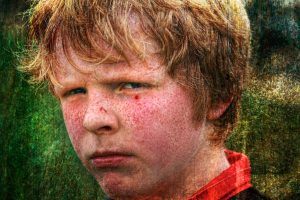 "By age 9, the default emotion for most boys is anger." — Michael Gurian
It's easy to feel overwhelmed and helpless in the face of a boy's anger, whether you've got a toddler throwing a temper tantrum or a teenager on a rampage. But learning to respond to boys' anger with love and patience is one of the best gifts we can give to our guys.
In this episode, Jen & Janet discuss:
How the "boy code" subtly encourages anger
The biology of anger
Techniques parents & teachers can use to manage boys' angry outburts
The link between anger, aggression and violence (SPOILER ALERT: anger doesn't inevitably lead to violence)
Links we mentioned (and more!) in Episode 104:
Masterminds and Wingmen: Helping Our Boys Cope with Schoolyard Power, Locker Room Tests, Girlfriends, and the New Rules of Boy World, by Rosalind Wiseman
Boy Talk: How You Can Help Your Son Express His Emotions by Mary Polce-Lynch
Tips on Dealing with Anger — From a 7-Year-Old Boy by Jennifer LW Fink
He Is So Angry! by Janet Allison
Teenage Angst, or Something More Serious? by Jennifer LW Fink
SPECIAL NOTE: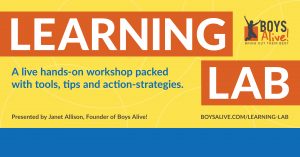 CLICK HERE for free access to Janet's 75-minute audio file – Learning Lab: Boys and Anger with a bonus pdf on "The Boy Code and Anger."
Because you asked…you can WATCH the uncut version of this podcast on YouTube.