Podcast: Play in new window | Download (Duration: 29:19 — 33.6MB)
Subscribe: Google Podcasts | Stitcher | RSS | More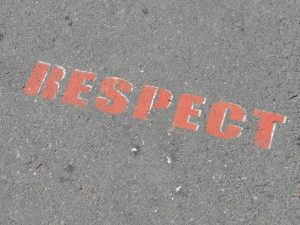 What is respect?
We tell our boys all the time to "show some respect!" and to "respect your teachers," and worry about whether or not our boys know how to respect girls and women. But what does that mean?
Defining respect, we've learned, is trickier than it seems at first glance, and if you and your son (or you and your parenting partner) are working with different definitions of "respect," you're likely to find yourself frustrated.
According to the dictionary, respect has two definitions:
a feeling of deep admiration for someone or something elicited by their abilities, qualities or achievements
due regard for the feelings, wishes, rights or traditions of others
Do you see the difference? According to Definition One, respect is something that is earned; someone must be or do something special to elicit admiration. Definition Two, on the other hand, implies regard for another, regardless of what the feelings, wishes, rights or traditions of that person may be.
What does this have to do with raising boys? Well, we're living in a culture in which people say things like, "I will never teach my son to respect women. I'd rather have him respect a rock. I teach him to respect people who earn it…Only toxic feminists demand respect when none is earned."
A culture in which an online commenter responded to this sentence, "…It was important to us that our boys understand the incredible worth and dignity of women and that they grew up to be men who treated women with the respect they deserve" with this sentence: "The fact is that some women are deserving of no more commitment and respect than a urinal at a truck stop."
It's time to talk seriously about respect: what it is, why it matters and what exactly we mean when we ask our boys to "show respect."
In this episode, Jen & Janet discuss:
The definition of respect
Why simply telling your kids to respect someone is meaningless
How to handle tricky situations (Example: you want your son to respect his teacher, but the teacher belittles another child in the class)
How to help a child handle feelings of disrespect
Teaching respect in a disrespectful world
Why you must explicitly describe the kind of you behavior you want from your child
Helping boys navigate respect, justice and injustice
The importance of role-modeling
The difference between "dissing" and "disrespect"
Disrespectful language
How to disagree without showing disrespect
Links we mentioned (or should have) in this episode:
Teaching Boys to Respect Women — BuildingBoys post (learn more about the "some women are no more deserving of respect than a truck stop urinal" comment)
21 Completely Subjective Rules for Raising Teenage Boys — rule 1 is the one that inspired one man to write "I will never teach my son to respect" women – & inspired this podcast episode!
Finding Balance & Handling Disrespect — ON BOYS episode that can help you deal with disrespectful behavior
How to Show Respect to Others (& Why It's Important in Life) — includes 6 concrete suggestions
LiveRespect Curriculum — FREE curriculum to help boys become healthy men
The Center for Respect — Mike Domitrz's business; includes links to his parent & school programs (Wanna get to know Mike? Here he is on ON BOYS)
Cultures of Dignity — Rosalind Wiseman's website; includes links to her blog and a plethora of resources (Listen to Rosalind on ON BOYS)
LIKE THIS EPISODE? Share it with your friends (and thanks!):
Twitter:  Use this link
Facebook: Use this link
Linkedin:  Use this link
STAY CONNECTED WITH JANET & JEN:
Join the Building Boys FB group and the Boys Alive! FB group
Be sure to opt-in at  Boys Alive! .com for your free report "3 Simple Tips to CONNECT with Your Boy."  And opt-in at  BuildingBoys.net, too!
Follow us on Instagram:  @on.boys.podcast and @boys.alive
Twitter:  @ParentAdvisor and @BuildingBoys 
LinkedIn:  use this link for Janet and use this link for Jennifer